The Admiral and are are getting excited about a plan for our first multi-day trip. We have done a couple of over-nighters, staying in transient slips at marina's but that's it. This one will be 4 ½ days. Would have preferred earlier than the third week of September but schedules just wouldn't allow it. Counting on a few more bright sunny days even if a little cool at night. Maybe some fall colours will have started. Our route isn't outrageous, from the bottom end of Lake Simcoe, across Lake Couchiching and into the Trent-Severn canal/lock system to Georgian Bay to Midland and maybe Beausoleil Island and back. Approximately 240 miles return, depending on how adventurous we get and how the timing is going. About 30 to 40 percent is in no wake and speed controlled zones, so an easy sight-seeing tour. There are four locks to traverse, 3 regular lift locks and one very unique overland style lock. Picture a huge gantry with slings on rails. The Big Chute marine railway. For the curious, here's a link: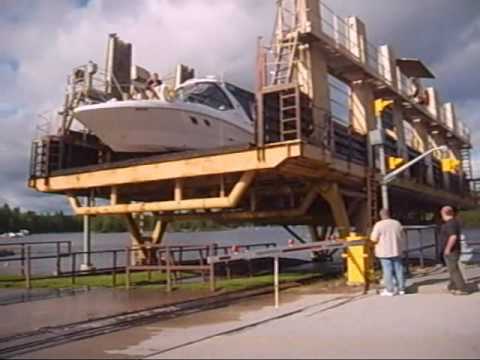 I'm a little nervous because I've only locked through a couple of times in the past on a mild stretch of the Rideau and I wasn't the Captain, just a guest on another boat. But I'm now confident enough piloting our FV270 that I think I'll be alright. I'll throw out every buoy that I've got on board.
I haven't figured out what, if any, spares I'll carry other than fluids. Mabe a serpentine belt. We won't be too far from any number of marine services and marina's anyway, and I have a C-Tow membership, but that's really only good on the Simcoe end and the Georgian Bay end, not while in the canal. I had thought about a spare battery or battery pack, but would like to skip the weight and don't need another battery to service and keep track of. I do carry battery cables already and my two house batteries and starter battery are all new and in good shape.
I always have tools on the boat, tie wraps, electrical and emergency leak tape, lot's of rope and all the requisite safety gear. Cell phones and spare batteries. A solar powered radio so I can listen to it without running the house batteries except for the fridge and a few lights. Some food and snackage, although there are many places to stop for meals and refreshments. I'll be sure to keep the beer cooler full for anchor time. Haven't decided whether to try and hit some marina's or go on the hook. Probably a bit of both. I like the marina in Midland and have stopped there before in our old boat that we trailered in. Likewise, I've done other parts of the journey piece by piece that I could trailer to, but most of it will be new territory to me. I have paper charts and a Navionics chip with a route planned in the chart plotter. I know there's a few of us on here that are from the area, anybody else done it? Any other suggestions or thoughts from others that have done multi day trips?